The Weill Cornell Youth Scholars Program (WCYSP)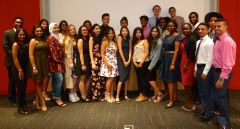 The Weill Cornell Youth Scholars Program (WCYSP) is a three-week summer enrichment program targeting current underprivileged high school juniors with have an interest in science and medicine. The WCYSP embodies critical early intervention in shaping a student's future, and therefore seeks to endow students with the skills and experience necessary to fulfill their vast potential. The curriculum consists of basic science lectures (primarily given by medical students, residents, and physicians), faculty spotlight sessions, problem-based learning sessions, mentor/mentee sessions, and visits to the anatomy lab.
Topics covered include medical ethics, organ systems biology, nutrition, infectious disease, embryology, disease pathogenesis, immunology and chronic conditions. The WCYSP starts on the first Tuesday of July, and runs four days a week from 8 a.m. to 3 p.m.
For further information on these activities at Weill Cornell, please contact Daniel Kramer at wcmc.scholars@gmail.com.
 How to apply:
Download the WCYSP 2018 Application Instructions

 here 

for complete instructions and the required Signature Form

Click here 

for the online application.
The Health Professions Recruitment and Exposure Program (HPREP)
The Health Professions Recruitment and Exposure Program (HPREP) was developed in 1989 by the Weill Cornell chapter of the SNMA. It is now a national program addressing the issues of declining enrollment rates of underrepresented minorities, specifically in medicine and generally in the health professions. The program exposes high school sophomores and juniors to science-related activities. HPREP also teaches students about specific career fields and the steps needed to become a physician or other health care provider.

During the ten-week program, 10th and 11th grade high school students are exposed to physicians and health care professional from minority groups. These professionals give lectures on a broad range of topics and, in addition, the students participate in small group workshops led by medical students. The participants are also required to submit a short research paper on a pre-approved subject at the conclusion of the program.

For further information on these activities at Weill Cornell, please contact us at hprep@med.cornell.edu

How to apply:
To complete the application form click here

Download the HPREP 2019 Applications Instructions in the link below for complete instructions and the required Signature Form