The Weill Cornell Youth Scholars Program (WCYSP)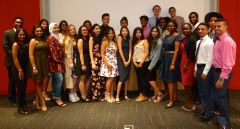 The main purpose of the Weill Cornell Youth Scholars Program (WCYSP) is to expose underprivileged, underrepresented students, especially from inner city high schools, to the vast educational resources and opportunities at Weill Cornell Medical College and New York Presbyterian Hospital. Many of these high schools have exceptionally high drop out rates that coincide with low percentages of graduates that go on to attend a four-year university. By developing early experiences in medicine, students can develop appropriate attitudes towards their education, interpersonal skills and, more importantly, confidence in themselves to succeed academically. The WCYSP curriculum is designed to educate, inspire and groom participants for personal and professional success. We seek to address some of the weaknesses that prevent many inner-city students from performing well at the college level through an innovative format that emphasizes critical reading and writing. Our daily Problem Based Learning (PBL) sessions provide a forum for youth scholars to interact with one another and build their teamwork abilities. All high school students that completed the program reported that it had a significant impact on their personal motivation to pursue a career in science or medicine and are more motivated to take more challenging courses in high school. Weill Cornell medical students, residents and attending physicians serve as mentors and teachers in the program. Volunteer teachers can choose one or more topics and will be given lecture notes and PowerPoint slides that are already prepared for each topic. The program runs for one month every July from Tuesday to Friday. Typically, each lecturer will give one to two one-hour lectures, but if they choose they can volunteer more of their time. We also recruit new leadership every year to plan the next summer's program under the guidance of leaders from the previous year.
For further information on these activities at Weill Cornell, please contact at wcysp@med.cornell.edu or visit our website.

The Health Professions Recruitment and Exposure Program (HPREP)
The Health Professions Recruitment and Exposure Program (HPREP) was created in 1989 by Dr. Daniel Laroche, '92 when he was a medical student to increase the enrollment rate of students who are underrepresented in medicine and provide participants to interact with medical students, faculty, and health professionals. Dr. Laroche had then presented the program to the national Student National Medical Association (SNMA) conference where it was decided that the program should be in other medical schools under SNMA. HPREP is a ten-week program held on Friday afternoons beginning in January. High school students will hear from physicians and other health professionals speak on their path and work in small groups with medical students on write a personal statement, resume, and research paper and during an anatomy lab. In addition, students participate in practical workshops discussing the college application process, how to write a research paper, applying for financial aid, and writing a personal statement. The student with the best research paper and college essay are awarded each a $250 book scholarship for college. Each participant who completes the program receives a letter of recommendation and a certificate of completion.
The HPREP 2023 application is now available. Please check out our website for instructions on how to apply.
For further information on these activities at Weill Cornell, please contact us at hprep@med.cornell.edu.