College Programs
Access Summer Internship Program

The Access Summer Internship Program allows students to spend 10 weeks conducting research in a laboratory under the mentorship of an experienced scientist. Students attend lectures and discussions regarding the current status of biomedical research and the range of career opportunities available, attend workshops to sharpen their presentation and interview skills, and enroll in a GRE course to prepare them for examination.
The Successful and Productive Academic Research Careers Jr. (SPARC Jr.)

The Successful and Productive Academic Research Careers Jr. (SPARC Jr.) program targets undergraduates, and functions as a networking opportunity for students from all summer programs at Weill Cornell, Rockefeller University, and Memorial Sloan Kettering. Students gain valuable advice regarding medical school/graduate school application, discuss financial aid, and are able to meet faculty members.
SPARC Jr is an annual conference hosted by the Office of Student Diversity, conceived in direct response to the NIH's call for a vigilant response to the underrepresentation of women, racial and ethnic minority investigators in academic research.
The Travelers Summer Research Fellowship Program (TSRF)
The Travelers Summer Research Fellowship Program (TSRF) provides premedical students with deeper insight into the field of medicine, including issues that greatly affect the health of traditionally underserved groups. Through laboratory and clinical research, this diverse group of students pursues specific research problems under the supervision of a faculty member. A lecture series also explores topics in cardiovascular physiology, exposing students to an understanding of hypertension and cardiovascular disease - both of which are major problems in minority communities.
Summer fellows attend a series of presentations by minority physicians, who address issues of concern in their daily work in order to present a comprehensive picture of health care in minority communities. Rounds in the hospital with advanced-year students provide further exposure to the clinical facets of medicine. Fellows also receive counseling regarding medical school financial planning, including examination of financial aid packages. 
Weill Ithaca Summer Experience in Research (WISER)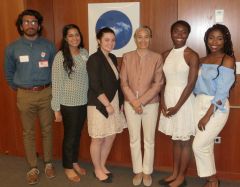 Weill-Ithaca Summer Experience in Research (WISER) is a joint program between Cornell Ithaca and Weill Cornell Medicine (WCM) geared to provide historically underrepresented and/or low-income students who are members of the Cornell University Pre-Professional Programs (P3)  with biomedical research guidance and field experience. 
Six students with an interest in basic science, medical or health disparities research, are selected to participate in this paid six-week summer program in New York City. Accepted students are assigned to a community organization, and guided through the process of developing a research question embedded within an existing project. Students participate in journal clubs, didactic courses on research ethics, community-based participatory research, preliminary data analysis and scientific data presentation. They work on projects as a group, providing feedback to their peers, and eventually complete a written and oral presentation of their work. 
Through WISER, Weill Cornell is able to build pipelines to biomedical research, and to increase the racial and ethnic diversity in academic medicine.
This program is only for Cornell students. Applicants should have housing in the Greater New York City area and be able to commute to WCM for the duration of the program. For more information and to apply, 

 click here for more information

Gateways Laboratory Program
The Gateways to the Laboratory Program was established in 1993. According to NIH, it is one of the top ten summer programs that are for the underrepresented minority and disadvantaged college students who wish to pursue a MD-PhD degree. This program focuses on educating freshmen and sophomores about the challenging and gratifying road of becoming a physician-scientist.
Fifteen students embark on a ten-week intensive journey, which gives them hands on experience in the hospital and labs. Each student receives a mentor and partakes in research projects, meetings, workshops, and more. At the end of the program students give a presentation of their research in front of their peers, family, and colleagues.
Learn more here: http://weill.cornell.edu/mdphd/summerprogram/
Tri-Institutional Minority Society Summer Program for Undergraduate Research (TIMS SPUR)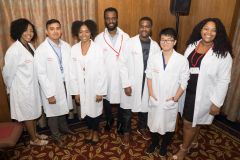 In 2015, Dr. Fon Powell (WCMC Phd '17) created TIMS SPUR. Dr. Powell wanted TIMS SPUR to expose talented minority undergraduates to science early on, in order to increase minority recruitment and retention in the science field. This program offers students that have low-income and limited research experience, with advanced biomedical research internships. 
This ten-week program explores many topics from mechanical engineering to bio chemical mechanisms and behavioral mouse models of prominent diseases. The course includes journal clubs, laboratory research, lectures, and talks with minority scientists and physicians that share their personal scientific journeys. To conclude the program, students write a research report, give an oral presentation, and participate in a poster session. 
For more information and to apply http://www.timsnyc.org